Steve Hackett Live Archive - 70,80,90,s
Realese Date: 12 Novembre 2001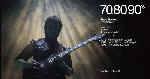 CD1 70's
Hammersmith Odeon
London 30/06/79
01 Intro
02 Please Don't Touch
03 Tigermoth
04 Every Day
05 Narnia
06 The Red Flower of Tai Chi
07 Ace Of Wands
08 Carry On Up The Vicarage
09 Etude in A min
10 Blood On The Rooftops
11 Horizons
12 Kim
13 The Optigan
14 A Tower Struck Down
15 Spectral Mornings

CD2 70's
Hammersmith Odeon
London 30/06/79
01 Introductions
02 Star Of Sirius
03 Shadow Of The Hierophant
04 Clocks
05 I Know What I Like
06 Wardrobe Boogie
07 Racing In A
08 Racing In A Coda

CD3 80's
Castel Sant' Angelo
Rome 13/09/81
01 The Air Conditioned Nightmare
02 Jacuzzi
03 Funny Feeling
04 Ace Of Wands
05 Picture Postcard
06 The Steppes
07 Every Day
08 Overnight Sleeper
09 Hope I Don't Wake
10 Slogans
11 A Tower Struck Down
12 Spectral Mornings
13 The Show
14 Clocks

CD4 90's
The Grand Theatre
London 08/06/93
01 Medley
Myopia
Los Endos
Imagining
Ace Of Wands
Hackett to Pieces
02 Vampyre With A Healthy Appetite
03 Sierra Quemada
04 Take These Pearls
05 In The Heart Of The City
06 Walking Away From Rainbows
07 There Are Many Sides To The Night
08 Kim
09 Dark As the Grave
10 Always Somewhere Else
11 Lost In Your Eyes
12 Spectral Mornings/Firth of Fifth/Clocks
13 Cinema Paradiso
14 In That Quiet Earth

Extra Show Available!
Add to your set with this bonus 70's show available exclusively from the Sales Desk.

This gig from the Shearer line-up was recorded at Newcastle City Hall on 26th October 1979. Great drum kit, great audience and a great noise! This show, we thought, had a unique energy, redolent of the time and was well worth preserving for this release.
De-buzzed, de-clicked, de-hissed - generally rescued for your added listening pleasure, the album is supplied in a cardboard slipcase to match the 4 other discs.
Bonus CD5 70's
Newcastle City Hall
26/10/79
01 Please Don't Touch
02 Tigermoth
03 Every Day
04 The Steppes
05 Narnia
06 The Red Flower of Tai Chi
07 Sentimental Institution
08 Star Of Sirius
09 Spectral Mornings
10 Clocks
Bonus Tracks:
Hammersmith 30/10/79
01 Ace Of Wands
02 Hands Of The Priestess
03 Racing In A